My Way Is Southwest Trafficway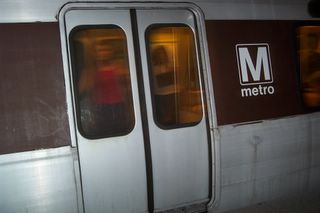 It usually takes me several attempts to get the hang of a city's subway system, and Washington D.C.'s version was no exception. Once mastered, however, it's marvelously quick and efficient.
Using it to navigate the capital made it clear that light rail could never offer the same efficiency for most residents of the Kansas City area. The line under serious consideration would run from Olathe to downtown along the train tracks adjacent to I-35. It seems that this plan would almost exclusively benefit commuters from Lenexa and Olathe. And restoring the old line from Waldo to downtown- essentially the Max bus route- would be really groovy.
Even so, it's highly unlikely that I would travel seven miles to I-35 or four miles to Waldo from my Prairie Village home just to avoid the twenty minute drive downtown. And if this tree-hugger can't be bothered, how many people can?