Just Jazz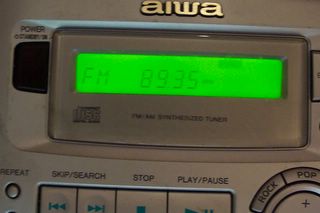 Just Jazz
might have been the worst radio program I've heard. And I loved it.
For 23 years, the KCUR offering broadcast moldy swing music by Vic Damone, Stan Kenton and Marilyn Maye. For months, it's been a sad echo of its former self, as its hosts, Ginny Coleman and Ruth Rhoden, have been waylaid by health concerns. The
Kansas City
Star
reported today that the next
Just Jazz
show will be the last.
Ginny and Ruth's show was the region's most important forum for the jazz community. Local musicians including Mike Ning, Gary Sivils, and their all-time favorite, Tommy Ruskin, received attention every week. Most shows also featured a guest or two, such as a local jazzman pushing his new release, or the Folly Theater's Doug Tatum discussing a new jazz concert series.
Because I'm under the age of 60, I didn't really listen to
Just Jazz
for the music. Ginny and Ruth's musical tastes solidifed in the early 1950s, and their palates never evolved. The attraction for me was the banter between Ginny and Ruth. Complete opposites, they openly detested each other.
Hilarity ensued after each show's traditional opening big band number. The sniping commenced immediately. Ruth was flighty and absurdly disorganized. Just reading the credits of a song properly was a challenge. Ginny, meticulous by nature, didn't hesitate to correct Ruth's errors. As Ruth's clarity declined, Ginny became downright cruel. She would chide Ruth's inability to announce a song, or would mock Ruth's poor memory. Awkward and painful, it made for terrific entertainment.
My favorite
Just Jazz
moments occurred when the hosts would unwittingly play a number that strayed from their clearly defined tastes. In the last year, for instance, they aired a piece from a new Wayne Shorter CD. It lasted about three minutes, before Shorter's brilliant explorations were unceremoniously silenced by an outraged Ginny, who didn't hesitate to voice her displeasure.
Jazz has become a decidedly unpopular music. So I won't chide KCUR, Kansas City's NPR affiliate, for no longer having a single program dedicated to the music. Still, I fondly recall KCUR's nightly jazz programming in the early '80s, when experts like Chuck Haddix and Rodney Franks turned me on to Duke Ellington, Thelonious Monk, Miles Davis and Charlie Parker.
KCUR might consider offering streams of vintage
Just Jazz
shows online. I can't bear the thought of never again hearing Ruth sigh ecstatically about a "swinging chart," or chortling as Ginny reminds Ruth that Louis Bellson played drums, not trombone. Each
Just Jazz
show ended with the pair attempting, and rarely succeeding, to simultaneously intone the program's name.
Just Jazz
. Keep swinging, ladies.