Suck Your Glasses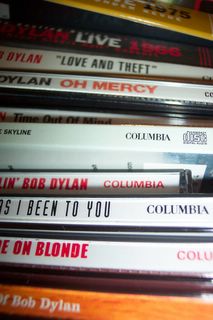 Had I directed
No Direction Home
, the Bob Dylan documentary broadcast on PBS the past two nights, I would have been tempted to loop the footage of Bob Dylan and Johnny Cash rehearsing a Hank Williams song for three and a half hours. Seeing the two icons performing my favorite song,
I'm So Lonesome I Could Cry,
was almost more than this fanboy could bear.
Nothing against Martin Scorsese, the man who must have padded his resume to beat me out for the job, but slapping together footage focusing on the five years ending in 1966 is a laughably easy task. The great material is limitless.
Since I already knew that Dylan is an unpleasant and ambitious man who doesn't mask his financial aspirations, I didn't learn much. A similar study of the last forty years, in which Dylan's failures play a larger role than his successes, would be much more revelatory. Maybe that's the movie I'll be hired to make.