Alien Invasion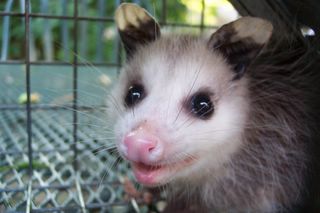 My acquaintances know that I'm locked in mortal combat with squirrels. These vandals tear shingles off my roof and bomb me with debris. The stakes are high. We battle over their right to live within the walls of my home.
Twitchy and indecisive as they may be, squirrels outsmart me on a daily basis.
For every squirrel I catch, I trap two mice, two opossum and five chipmunks. As I like opossums, I gently released this one back into my yard. I marvel that any animal so homely, slow and dim-witted isn't extinct.